OVERVIEW
With an increasingly mobile and globally connected population, the world is rapidly changing and faces many challenges. Education is increasingly borderless, and with this comes challenges of how to ensure quality of transnational education. There is increasing demand for appropriately trained professionals with an understanding of the challenges faced by education and globalization as they interact together. The Masters of Global Education uniquely provides in-depth knowledge, skills and understandings through both practice and theory based modules, enabling its graduates to make a telling future contribution to shaping tomorrow's global education needs.
WHY SHOULD I STUDY GLOBAL EDUCATION AT XJTLU?
Focus on global education development since the 2000's, with a special emphasis on China and is relevant to all countries' global education development;
The diverse modules cover topics from educational management and leadership to language and cross-culture communication;
Highly-experienced academic staff with wide variety of international backgrounds;
Hands-on internship experience and professional mentorship as part of the programme learning;
Earn a University of Liverpool degree that is recognised by the Chinese Ministry of Education.
START DATE:Each September
ATTENDANCE:Part time
DURATION:36 months
SCHOOL:

Academy of Future Education

LOCATION:Suzhou, Shenzhen and Guangzhou (Nansha District)
KNOWLEDGE AND SKILLS
By the time you graduate from the MA in Global Education, you will have:
Developed intellectual qualities of reasoning, analysis and creativity;
Gained an advanced critical understanding of key issues, concepts and theories of global education, and education management;
Fostered abilities of conducting a research project, skills of enquiry and independent learning;
Experienced diverse learning activities and gained professional experience as well as capabilities through both in-class and real-life learning sessions.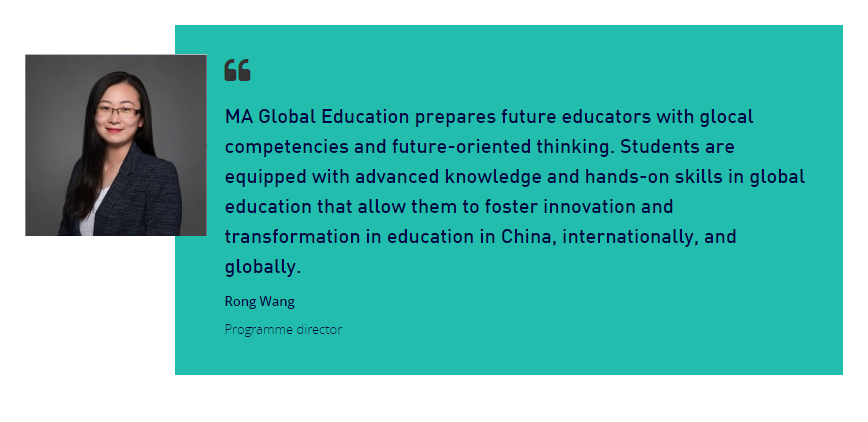 MODULES
Core modules

Semester1

Semester2

Semester3

Semester4

Semester5

Semester6

Additional learning activities

The completion of additional learning activities is required to obtain your master degree. The programme includes a total of 600 hours of Additional Learning Activities, most of which are chosen individually by students. Normally, required ALA hours will be distributed evenly across each semester, amounting to 200 hours per semester. Part-time programmes will normally require 100 to 150 hours per semester. They should normally be spread equally over teaching semesters and the summer and winter breaks.
TIMETABLE
For part-time students, modules may be mainly scheduled in the evenings on weekdays or between 9:00 AM to 8:00 PM on Saturdays.
CAREERS
Graduates from this programme are well prepared to start or advance their career in transnational education across a variety of fields. These include:
K-12 international schools;
China-foreign cooperative universities or joint programmes;
NGOs with focus on international education development;
Private educational start-ups enterprises.